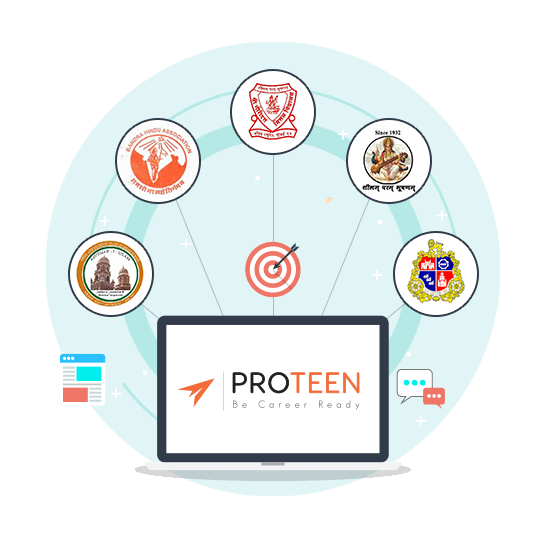 What sets ProTeen apart is the science behind the product. The platform epitomises the finest that digital pedagogy has to offer. It utilises the best mix of science and engineering, combined with leading research from developmental psychology to set an industry-leading standard for career guidance. The platform draws inspiration from the global body of research in cognitive psychology, development psychology, occupational themes, and most importantly, Gardner's Theory of Multiple Intelligences while taking a fresh approach to standard psychometric assessments in use today.
The nucleus of our platform is ProTeen's 3D Awareness Engine, designed to provide a scientific, holistic, and experiential approach while making smart career decisions in the 21st century.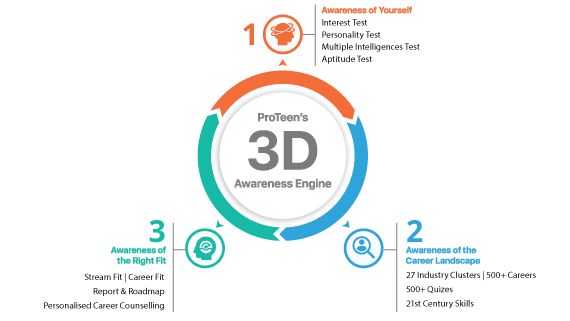 STRENGTHEN ALL DIMENSIONS OF AWARENESS
ProTeen pairs the right career fit with its 21st-Century Skilling Program, which is designed to help students learn skills that are necessary for the modern career world. This gives students a competitive edge and helps them adapt to changing industry trends.
All this and much more is achieved through ProTeen's proprietary 3D Awareness Engine coupled with career counselling.
Cognitive Science & Research

INTEREST ANALYSIS
Dr. Holland's Occupational Theme guides students in understanding their area of interest that can reveal more about who they are, what suits them, and provide information necessary for making the right career choice.

PERSONALITY TEST
The OCEAN model analyses personality, temperament, and behavioral patterns that individuals exhibit across various situations.

MULTIPLE INTELLIGENCES
Dr. Gardner's Theory of Multiple Intelligences covers different learning abilities. The hypothesis describes various methods by which students learn and absorb information.

APTITUDE TEST
This proprietary aptitude test is designed to measure cognitive abilities and competencies to predict an individual's future performance.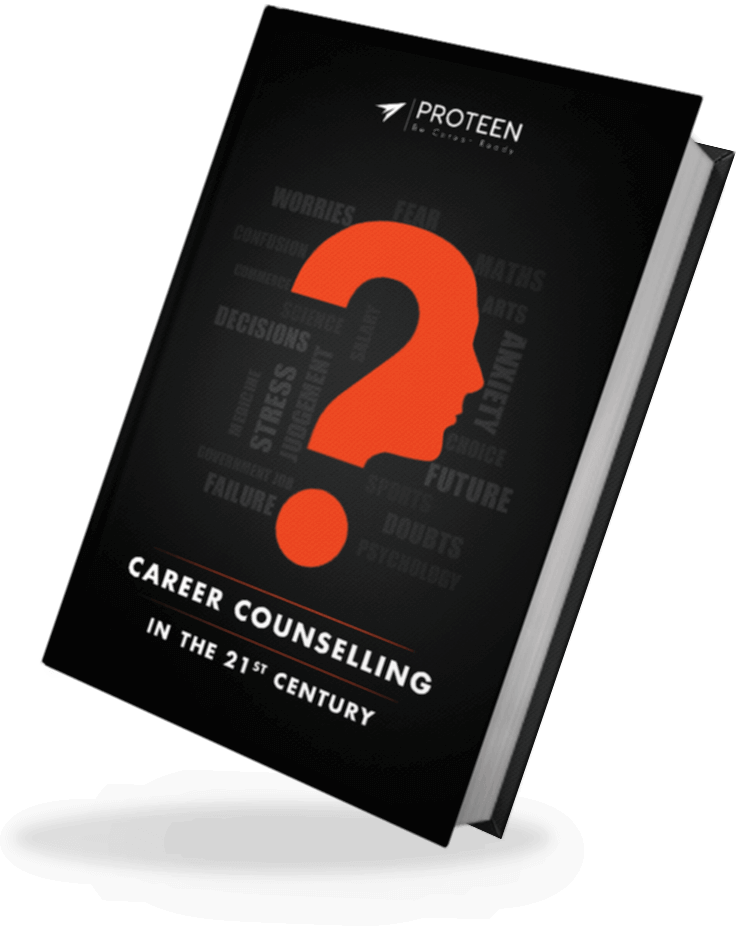 21st Century Counselling Handbook
Empowering career counsellors
and students in the 21st century