Numerous studies now indicate that the work place of the future is changing. Gone are the days when you were nervous about finding a permanent job in a large stable multi-national organization and with a view to retire after 40 years.
There is a shift towards finding a job that has flexible timing, allows to work remotely and in fact does not bind you to one employer for a long time –free lancing is desired!
The other trend that is impacting today is the changing nature of skills needed to do the jobs. According to the US Bureau of Labor Statistics the average tenure in a job is about 4 years, which means every 4 years you need to be equipped today with newer skills to be more effective at work. The World Economic Forum says that 35% of the skills that workers need, regardless of the industry will change by 2020! Here's a summary of the kinds of skills that are gaining importance and those that are losing.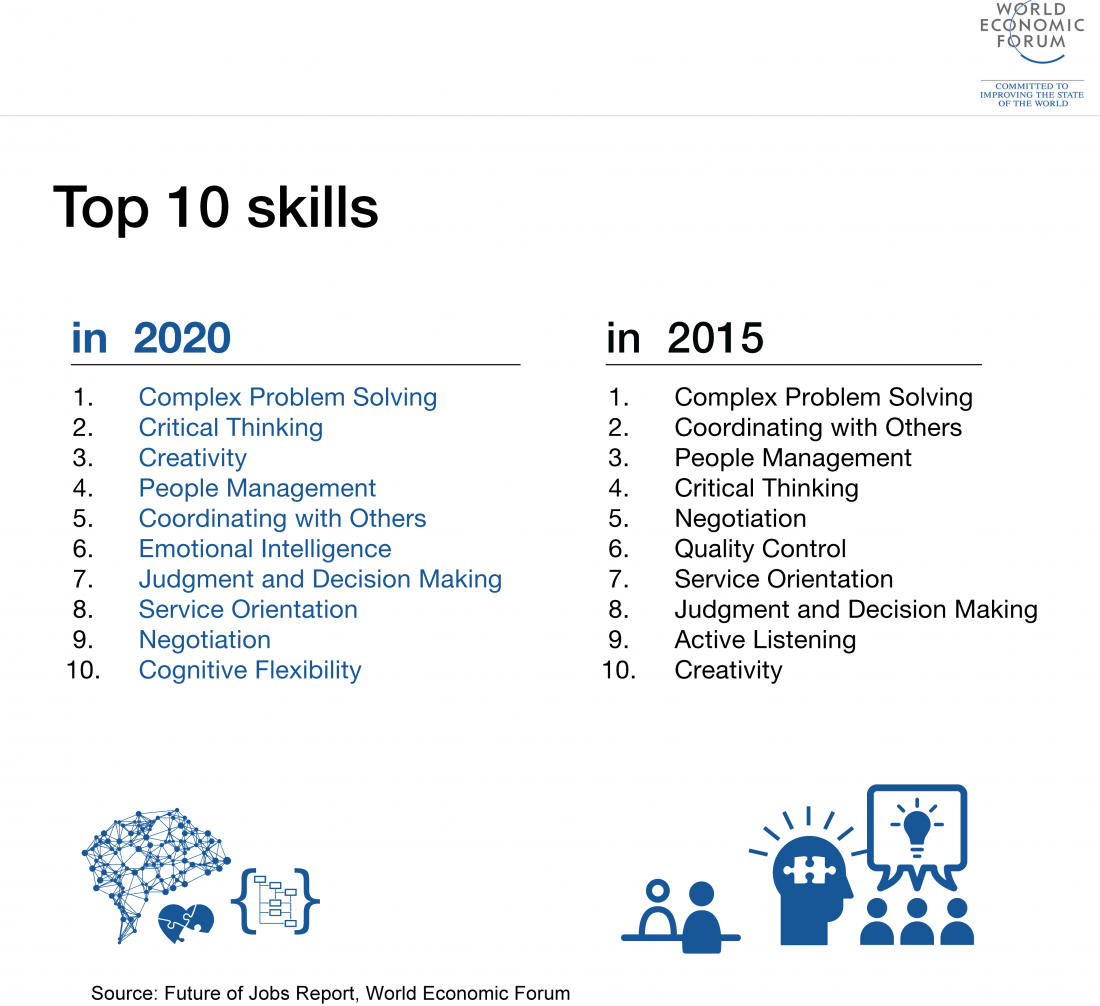 It would be worth noting that the future skills are not all about STEM (Science Technology, Engineering and Math). There is also a need to work on honing the business and human skills that are needed for the workforce to work with digital machines in the digital era.
With all this happening, our formal education system has not been able to keep pace! We still ask Children to go through a high school and 2-4year college degree.
And, if the US labor statistics were to be true, then by the time the 3-4 years of College are over, the skills required by the student to be useful at work-place are already outdated.
Then there is a concern about a jobless future. Many have predicted that with the advent of AI and automation more and more people will lose their current jobs. AI is now being used to read X-rays and MRIs. It's at the heart of stock trading. Chat with Siri or Alexa, and you're using AI. But when machines do everything do we need to ask what humans will do? Study shows that as change takes place, societies also evolve and with it, jobs change. The other thing to remember is that while Machines can do more, but there is always more to do. For instance, a Machine cannot create itself, sell itself or feed itself. Last but not the least –human brain is a complex curious thing. We always want to find out what's new and try it out.
In the future, work will change but won't go away. Many types of jobs will disappear. Many workers will struggle to adjust to the disappearance of the work they understand and find it hard to thrive with work they don't understand. But… there will be other jobs and new skills needed to do THESE jobs! We cannot ignore the impact of digital technologies in our life today. Artificial Intelligence (AI), Augmented reality, Virtual reality –these technologies are not prohibitive today and their up-take in common man's life is rapidly accelerating. Gartner in fact predicts that in 2020, AI will become a positive net job motivator, creating 2.3 million jobs, while eliminating only 1.8 million jobs. This will lead to a need for 4.1 million relearners by 2020.
At Cognizant's Center for the Future of Work, we recently conducted a cross industry research to articulate what may some of these future jobs look like? researched over 600 respondents from Colleges and Businesses. A striking number of participants mentioned that the Higher Ed Institutions are much less prepared to change the curriculum and program design to meet the Future skills. In fact, many businesses have already started building their training packages towards future skills.
The other aspect that our research showed was the growing popularity of certification and badging over a 4-year degree. This does not mean that complete College Education needs to go, but there is a window to create shorter but faster degree programs which are based on competencies and which enable a student to be ready to start work.
When Digital and Hi-tech companies like Google and Apple announced that they will henceforth not look for candidate's College degree before hiring, what appeared to be a bold move in fact will become a reality given the enormous amount of knowledge sources that our students of today are able to utilize in order to be employable.
In 2017, IBM's vice president of talent Joanna Daley told CNBC Make that about 15 percent of her company's U.S. hires don't have a four-year degree. She said that instead of looking exclusively at candidates who went to college, IBM now looks at candidates who have hands-on experience via a coding boot camp or an industry-related vocational class.
So what's the message? As the youth gets ready to join fresh workforce they should focus on skill, reskill and reskill again so as to stay relevant. Ironically, this means that even if you were absolutely certain about a career choice you may still find yourself pursuing newer skills in the future –skills that you may have never imagined as important. Similarly, it is perfectly okay to have made an error in making a career choice as the shelf life of a career is going to be shorter and you would see yourself acquiring many more skills to remain employable. A noted Professor at a University in Philadelphia once said that it is necessary today to teach the students how to lose their job in a few years so that they go back to reskilling them for the next job via ProTeen
Author – Tij Nerurkar